Estimated reading time: 4-5 minutes
SALT LAKE CITY — Two new surveys have shed light on Utahans' perceptions of tourism, showing statewide support and capturing residents' concerns about the quality of life in nearby areas. high attendance.
"What we know from this survey is that Utah residents, as a whole, are really happy with the visitor economy," said Vicki Varela, general manager of the Utah Office of Tourism. 'Utah. "We also know we have trouble spots, and they're a cautionary tale for all of us."
The Gardner Policy Institute conducted the surveys on behalf of the bureau. One survey focused on statewide perceptions, while the other focused on the sentiment of residents in 14 tourism-affected communities.
"A majority of respondents said the positive effects of tourism outweighed the negative effects," according to statewide survey results. "Many also indicated that tourism positively affects the state's reputation and that Utah provides a positive experience for visitors."
Both surveys were conducted in the fall of 2021. The statewide survey found that 75% of Utah residents feel optimistic about the impact of tourism on the reputation of the state, and 66% are positive about the effect of tourism on job opportunities.
The same survey found that 62% of Utah residents think tourism hurts housing affordability.
"It's better for us to have those tough conversations and know where to improve," Varela explained.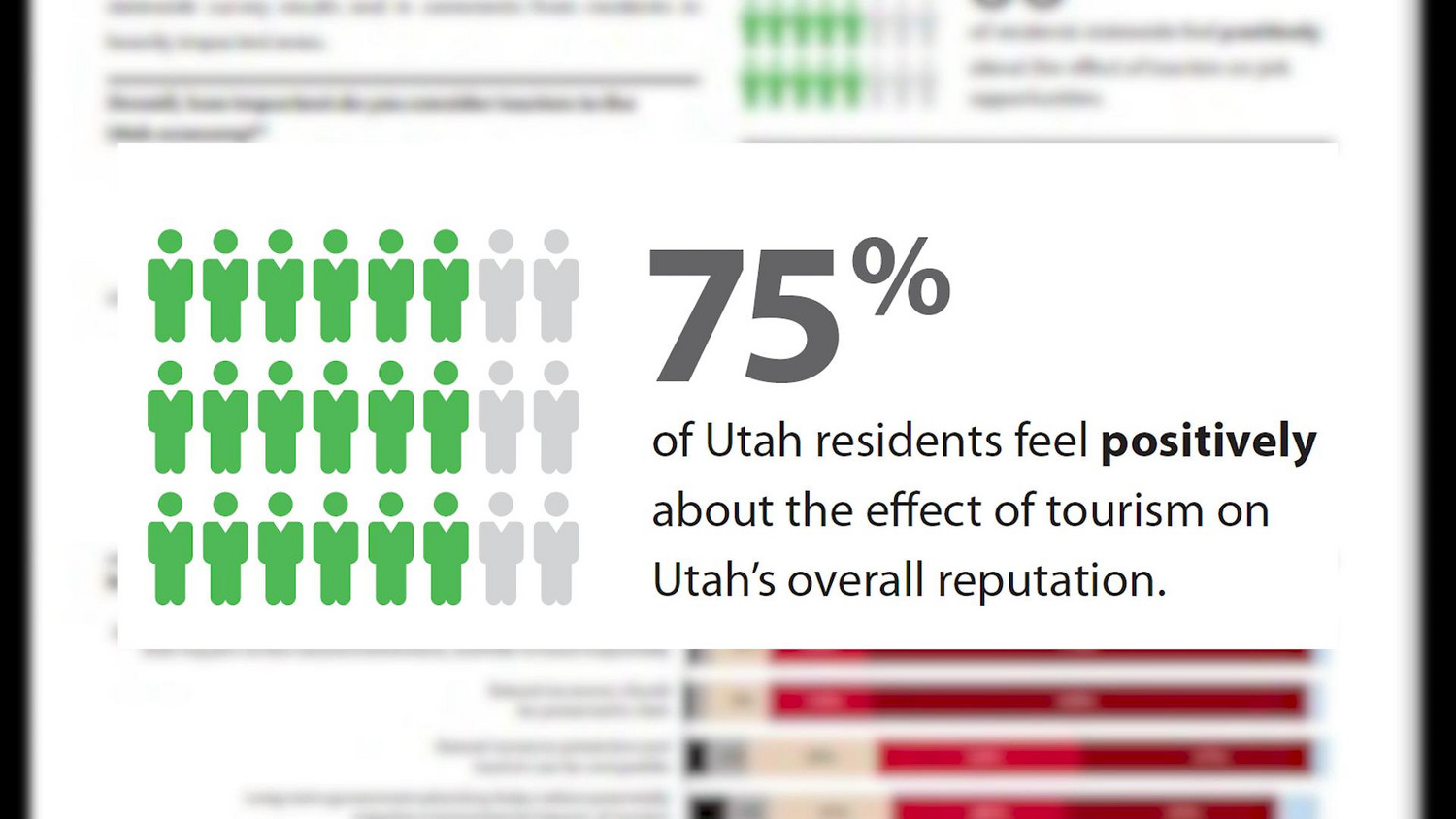 The local community survey involved over 1,200 people.
"(In) no region did the majority of respondents agree with the statement 'the government is doing a good job of balancing the needs of residents and visitors,'" the survey found.
He also found that most respondents are concerned about the effect of tourism on housing affordability, which is greater in areas with higher tourism.
"The Moab area expresses high levels of frustration, with a majority indicating that the negative effects of tourism outweigh the positive effects," according to the Gardner survey.
Local survey residents also expressed concerns about crowds, traffic, environmental impact and quality of life.
"Park City's responses also appeared to provide the most concerning views on the impact of tourism in their area and the community's ability to accommodate current levels of visitation," the survey said.
Varela said the national tourism board is committed to using lessons learned from problem areas and creating better strategies for the future.
"And plan other areas to avoid some of the problems they've had," she said. The focus is on sustainable tours and better experiences for everyone involved in tourism.
"We are here for the long game," Varela said. "It gives us the tools to develop a long-term strategy that will work for Utah residents and visitors alike."
She said the state would double down on its Forever Mighty initiative that encourages visitors to be thoughtful and respectful of local communities.
Here are some of the open-ended responses the local survey received:
"Gunlock Waterfalls were overrun with tourists on their last run. Sand Hollow State Park closed regularly because it was at capacity and many of the visitors were tourists, so locals can't enjoy their own area if too many tourists arrive," a Washington County resident said.
"The number of jobs correlated with the amount of money paid by tourism dollars is not a living wage. We absolutely should not rely on tourism dollars to sustain a community, it should only be an extra," said a resident of Carbon/Emery counties cast.
"People enjoy interacting with guests. It boosts the economy for jobs. Tourism here is very important to the economy," wrote one Wayne/Garfield county resident.
"Food, gas, housing and real estate are expensive! Businesses cannot keep their employees because of the high cost of housing, so the quality of service is poor! The environment is trampled to death by the number of people and their machines! The noise is HIGH too. This place sucks!" said a Moab-area resident.
"Not just search and rescue, but other emergencies and public safety need tourism funds to help pay for tourists who get lost, injured or have other emergencies," a local resident said. Springdale area.
"We have great environmental resources for the traveling public, and the experiences are positive," said a Daggett/Uintah Counties resident.
"We need more restaurants that serve sit-down meals. We have so many fast food places, but few options for a quality dining experience," one northern Utah resident wrote.
×
Related stories
More stories that might interest you